Posted: Sunday, April 5, 2020
Being one of the most beautiful cities in Spain, Granada will leave a very special memory in your heart after you spend some time exploring this place. Granada is located in Andalucía; an autonomous community in the south of Spain. This medieval Spanish city has a population just shy of 1 million people making it one of the largest cities in the south of Spain.
Not a fan of reading, but want to know more about Granada?
We've also put together a YouTube video that encompasses all of our below recommendations in an easy-to-view visual format: https://youtu.be/bnPijB_Ce9w
Now, before we jump in, it's important to note that this list is in no particular order of best to worst or vice versa! Each recommendation has its own qualities that make it worth visiting in our opinion – and hopefully there's something in here for everyone! Keep reading to see and learn about when the best time to visit Granada, Spain is as well as our recommended things to do in Granada, Spain and things to see in Granada, Spain.
So…when is the best time to visit Granada, Spain? The best time to visit Granada, Spain is from May-June & September-October. This is when the weather is still fairly mild (unlike the scorching hot summer months; July & August), but typically Granada has relatively nice weather year-round.
Now on to our recommended 10 Things to Do Granada, Spain!
1) Mirador de San Nicolas
Free
If you are anything like me, then you are going to love this one. Whenever I go to a new city, I love to find the best sunrise and sunset spots and Mirador de San Nicolas is gorgeous for both…actually, gorgeous is an understatement. Located at a higher elevation then many areas of Granada, be prepared to go through a bunch of beautiful side alleys, stairs, and winding roads to get to Mirador de San Nicolas.
There is a difference in the experience you will have whether you go in the evening or in the morning. As you can probably imagine, fewer people are interested in waking up early for sunrise so it is a very peaceful time to go up and watch the sunrise. You may even encounter some locals playing some perfect morning tunes to set the mood.
As for the sunset, I cannot promise you it will be "peaceful," but the sunset from up there sure is beautiful. With it being such a great spot to watch the sunset, it is no secret that this is the place to be for sunset. That is the downside to it. You will encounter hundreds of people so my recommendation is to get there a bit earlier to make sure you can get a great spot to enjoy the sunset. I will say though, regardless of all the people I would still recommend checking it out because it is just absolutely breathtaking to see the sun setting on such a beautiful and mountainous city.
2) Alcaicería Market
Free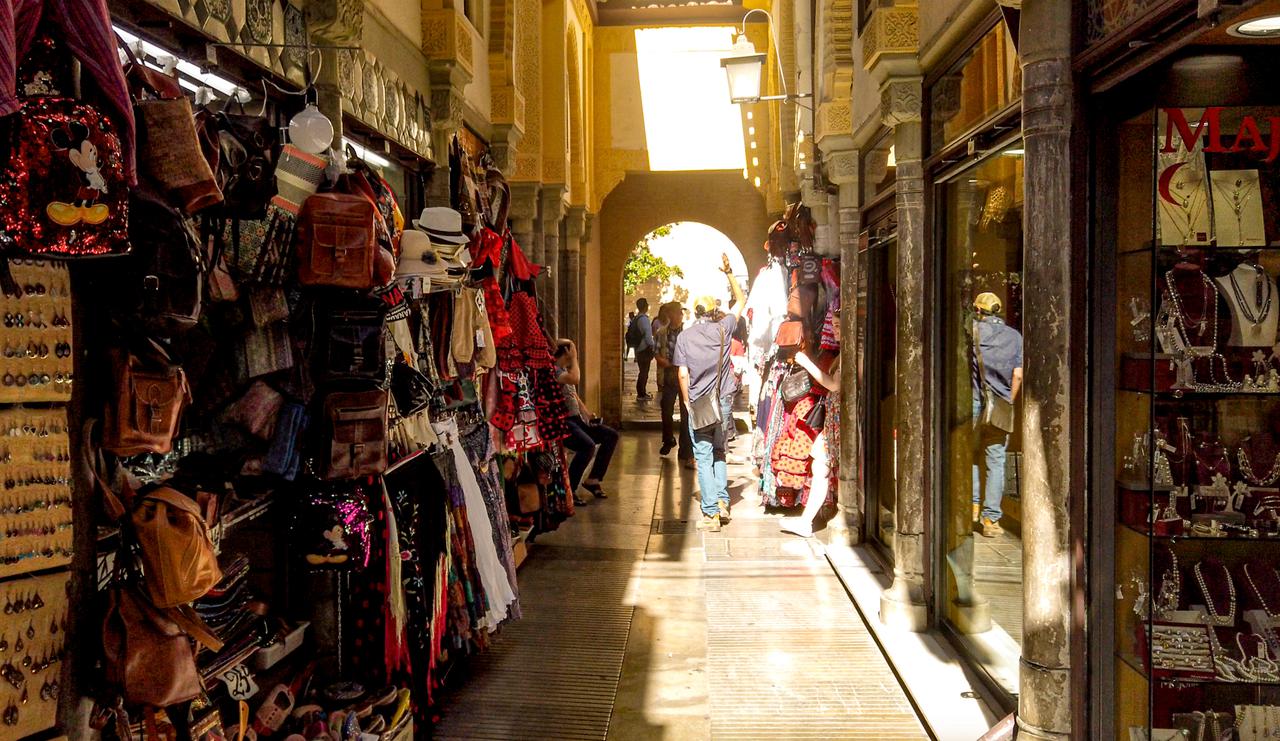 The Alcaicería Market is this super cool market that is now a much smaller market than it once was. Previously, the Alcaicería market was once the Grand Bazaar in Granada. It used to cover many streets with a massive amount of shops selling a range of many different items. Today it is a smaller area, but still loaded with many types of shops selling unique items that range from spices, gift shops, jewelry, unique lamps - just to name a few, but there are thousands of other categories of items they sell there. Even if you are not looking to buy anything, it is worth taking a stroll through to give you a glimpse of what it was like hundreds of years ago.
3) Carrera Del Darro
Free
One of the most picturesque streets in all of Granada, the Carrera Del Darro is perfect for that Spanish Instagram photo you have been thinking about all day. This street runs along a small little creek (some would call it a river walk) bordering a bunch of shops and restaurants on one side.
On the other side, you can see some amazing old Spanish architecture. From some areas of the street, you can look up and see the edges of the Alhambra towering over.
4) Sacromonte
Free
Sacromonte is a district in Granada about 10-15 minutes (walking) away from the city center. Sacromonte is also referred to as the gypsy quarter. This district is another picturesque spot in Granada as it has these white houses built into the side of the mountain. A lot of the houses are actually super old cave resulting in ultra-unique houses and restaurants. In the evenings, this district fills up with many people who want to enjoy some music, dancing and authentic flamenco.
5) Peña La Platería Flamenco
$
Peña La Platería Flamenco was a direct recommendation from my host (host family mom from when I lived in Spain for 4 months) mom's close friend who are both from Seville, Spain and have spent a lot of time in Granada. They recommended this place to me describing it as the best Flamenco in all of Granada. After making the trip over there myself, it was easy for me to agree with them! That said, a lot of people want to have this amazing Flamenco experience so make sure to call ahead and book your spot at Peña La Platería! Something worth mentioning too, you can also get some great views of the Alhambra at night when it is all lit up.
6) Albaicín District
Free
Sitting on the hill across from the Alhambra, Albaicín is another district in Granada, Spain which is loaded with shops and restaurants running along its' winding streets. There are also some parks, plazas and benches to come and sit on and enjoy some people watching.
7) Tapas in Granada
$-$$$
Anywhere you go in Spain, you will find that it is an unwritten rule to go out with some friends and enjoy Tapas! Tapas are small to large sized plates that are ordered and shared amongst everyone at the table. In Granada, they have a pretty unique tradition (in almost all cases) when you order a drink, they give you a tapa along with it! How great is that? I was shocked that when I ordered a cerveza (beer) or a tinto de Verano (similar to Sangria) they came out with a tapa to accompany it! Drinks are not expensive either unless you go to the very touristy and upscale locations. One of the places we went to, we had beers for 1 euro and it came with a tapa; unbelievably cheap!
8) Al-Haram Hammam Baths
$$-$$$
If you want to have the ultimate relaxation and rejuvenation experience, you must go to the Al-Haram Hammam Baths. Located in central Granada, Al-Haram Hammam Baths provide you the opportunity to enjoy the Arab baths experience. There are multiple bath options as well as treatments you can select through the packages they offer. We went for the most expensive package ($71 USD per person) because it was the first time we splurged in a while. And WOW it was worth it for the amazing two hours we spent there. Don't worry, there are less expensive options too!
Anyways, for our package we spent the first 30 minutes going in the main area which had 3 baths (cold, medium, warm) where we enjoyed the beginning of our relaxation experience. Then we moved into the private room where we went into the steam room which we exfoliated our skin before making our way over to the shower in order to cover ourselves in some clay. After that, we went over to our private bath for us to lounge in where they also had fresh hot green tea waiting for us to enjoy while sitting in the bath. After about an hour in the private room, we finished off the experience with a 30-minute oil massage. I have never felt so clean and relaxed! So worth it!
9) Alhambra
$
Probably the number one attraction in Granada, the Alhambra is this MASSIVE 26-acre palace that you can spend hours walking around and exploring. Every square inch of the palace has amazing details and architecture along with an insane amount of history behind it. Whether you like history or not, you will love walking around this complex because there are viewpoints all over the Alhambra that make you feel like you are living in a world hundreds of years ago. The Alhambra has been around since roughly 800 A.D. and you will be blown away with how well the grounds are taken care.
Tickets
That said, with almost 9,000 people visiting the Alhambra every day and roughly two million people per year, you need to book your tickets months in advance to ensure you will be able to include this in your itinerary. Now, if you don't have a few months' notice to buy your tickets, I have good news for you. There is still a chance you could get tickets, but you are going to need to be on your A game!
The Alhambra releases some tickets every day that go for sale, but it is completely at random so you need to refresh many times per day. And I mean many times! We were in Granada and collectively refreshed the website on our phones maybe 100 times in 2 days. Finally, when we thought we were not going to get tickets, all of a sudden, they had tickets available and we booked them right then on the website for 14 euros per person. There is a rumor that you can wake up early and buy tickets the day of, but this is not true! We tried it and the staff told us that it is a rumor! The only way to get last minute tickets is to continuously refresh the website throughout the day!
10) Generalife Gardens
$
The Generalife Gardens are technically an extension of the Alhambra, but this was one of my absolute favorite parts of Granada so I wanted to ensure it had its' own section in this blog post. I have been to a fair number of gardens around the world, but these were by far the most magical gardens I have ever experienced. We were there at sunset right before they closed so towards the end of our time exploring the gardens, we had them pretty much all to ourselves!! It was so amazing to walk around the mazes of sculpted plants in order to see how they had everything laid out, perfectly trimmed, and groomed. The gardens are truly a highlight of Granada especially when the sun sets.
Closing Thoughts
If you find yourself arriving pre-check-in or post-check-out, you can store your luggage in Granada with Bounce. Bounce is an app every traveler should have on their phone. They have thousands of luggage storage locations in most major cities worldwide where you can instantly leave your bags for a low daily rate.
These are just 10 things we recommend to do in Granada, Spain, but there are so many more things to do in Granada. This city will make you fall in love with Spain if you are not already in love with this amazing country.
There are many amazing activities and day trips you can do in and around Granada. Here are a few options below: